The construction of a modern national communications grid is a key step in improving the living conditions of a country's citizens. In Peru, part of an initiative to gradually increase the nation's internet coverage required the building of multiple base stations in three large regions with rough terrain and limited access to electricity. A way was needed to ensure uninterrupted operation of these remote locations as a country-wide communications network has no margin for error.



Challenges




1330 new access and transport communication base stations being built on the complex mountain terrain of Peru's Ayacucho, Apurimac, and Huancavalica regions needed a surveillance system with a wide, 220°tilt angle to remotely safeguard expensive hardware, while being able to frequently monitor the equipment to ensure consistent operation and prevent breakdowns. Dahua DSS management and storage hardware, paired with appropriate camera coverage and a monitoring system, were a perfect match for this project, but the local team would soon learn of a unique obstacle facing the system installation – power was provided to these regions with only 48V, unlike the 110V and 220V electricity grids commonly seen around the world. In order to properly supply electricity to security system components, the team would need to build a custom solution to overcome this barrier.



Solution




Because all Dahua products support 110V and 220V international standard power inputs, converters were needed to provide support for the local 48V input. For PTZ and IP cameras, a special 48V PoE switch was installed, while a custom power supply was built to supply Network Video Recorder (NVR) devices. In order to meet client tilt angle requirements, the SD59220T-HN PTZ cameras were customized and extended to support a 220°range, providing enhanced coverage, IR capabilities for flawless night vision, as well as a 20x optical zoom. Some access base stations were fitted with outdoor PTZ cameras and indoor bullet cameras linked with PoE switches, while other access base stations and all transport stations were completely fitted with PTZ cameras, both outdoors and indoors. In the capital city of each region, Dahua 2x3 55-inch video walls were installed in access and transport datacenters to provide continuous monitoring of base stations with video encoded and output through the DH-M70-4U Multi-Service Video Management Platform, which supports up to 48 4TB HDD devices for high storage capacity. DSS Management Platform devices were installed to provide advanced surveillance settings management, live monitoring, and playback capabilities.



Benefits




With the real-time monitoring of communications stations located in remote areas, grid directors now have the ability to direct manpower elsewhere, saving on labor costs pertaining to the supervision and inspection of station equipment, as maintenance checks are scheduled more efficiently and breakdowns are instantly detected and managed. The flexibility and customization capabilities provided by Dahua during the project overcame initial power and field of view challenges to allow stations to be fitted with the most advanced surveillance devices and features, guaranteeing high performance over many years to come. As the first complete end-to-end solution provided for the Peru market, Dahua has established a solid foundation in the region.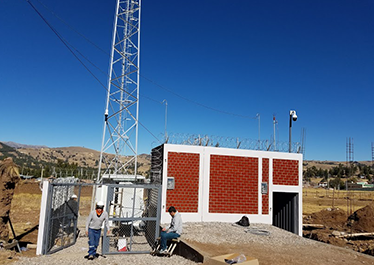 Related Products:
PFS3106-4P-60 4-Port PoE Switch
NVR4204-P 4/8/16/32CH 1U Network Video Recorder
DSS7016D General Surveillance Management Center
DHL550UCM-ES 55'' Full-HD Video Wall Display Unit
DH-M70-4U Multi-Service Video Management Platform