This solution adopts advanced AI algorithm and integrates face recognition technology into a well coordinated access control management system, enabling a safe working and learning environment.
Challenges
Unsafe

Traditional IC card is easy to lose or be stolen.
Strangers can easily enter and follow other people.
It is difficult for security personnel to confirm the identity of visitors.

Inconvenient

It is easy to forget access card or password.
Manual registration of information creates bad experience.
It is very inconvenient to open the door during rainy days or when carrying heavy objects.

Inefficient

Residents can't open the door automatically.
Low passage efficiency.
Requirements
Requires face recognition and liveness detection
Needs high face recognition accuracy
Needs quick recognition and passage
Needs a simple and economical solution
Requires anti-tailing function
Solution Overview
Service Process
Application Scenario
School Entrance
Factory Entrance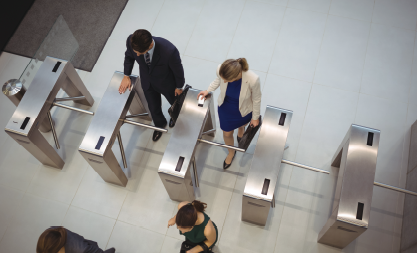 Office Building Entrance
Library Entrance
Solution Value
Fast

People can open the door automatically through face recognition.
Offers touchless passage with face recognition speed of less than 0.2s.

Safe

Features face recognition with 99% accuracy.
Supports anti-pinching and anti-trailing.

Simple

Does not affect the original system architecture and can be put into operation with simple debugging.
Easy integration with third party barrier.
Recommended Models